An African proverb states that it takes a village to raise a child.
A community of people must interact in varyin
g
parts of their lives f
or those children to experience and grow in a safe and healthy environment. People who can share in realizing their dreams. Role models who provide structure and fun, who guide, train, encourage, and shape tomorrow's leaders. A sphere that extends beyond immediate family and creates a positive sense of
belonging to something bigger than yourself. World Elite has been that home to many amazing
individuals.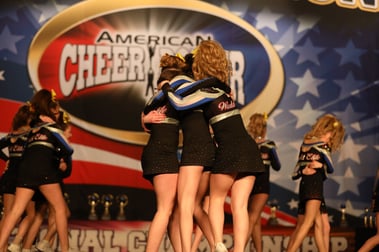 "Not enough space to say enough about the "family" we have gained by watching our daughters grow as athletes. Coaches, owners, parents alike. We've gone from the family who was super skeptical about whether or not cheer would be a good fit for us and our kids to the family that prefers to be at the gym every night socializing with our great group of friends we've met. Whether it is a group chat, a night out, or screaming at a competition for all of our fantastic teams, World Elite is by far the best thing that's happened to our family to date. We love it!"
Families choose World Elite to start an activity their child
will
enjoy, that will keep them physically fit and off the
smart device. They come wanting their child to understand winning, losing, and being on a team. They come wanting to find something their kids can build passion in. What they find is an extended family they didn't know they needed. A place where coaches, friends, and other parents show their children a pathway to achievement. Along the journey they find mentors who help them become empowered, confident and capable; finding a sense of social belonging that can't be replicated many other places. Beyond the benefits for their children, they find other like-minded parents who better for their kids too. Both parents and children find lifelong friendships at World Elite.
"This sense of family doesn't stop at the doors, it continues through the families and athletes. The families we
have met through the program have become our greatest friends, and I attribute that to the sense of commitment from the gym. I would encourage families looking for a program that supports the child not just as an athlete, then visit world elite."
Youth today have so many distractions, many choices and miles to go on their life's adventure. They need like-minded, like-motivated, and like-inspired peers to help them prepare to conquer their journey. They need a community who helps them see the possibilities, go with them and win for the team. They need a community of support. Could World Elite be that community?