Your child's safety means everything to us at World Elite Kids. That is why we have partnered with New York Life and Andrew Leeman to offer FREE child Fingerprinting on October 22nd at World Elite Kids - Tallmadge. New York Life's Child ID Program is designed to help children in our community learn how to stay safe in the home, at play, or wherever they happen to be.
BENEFIT TO PARENTS:
The Benefit of having a Child ID will give the parent or guardian peace of mind knowing that should anything ever happen to their child, they will have an ID with vital information to distribute to the local authorities.
Child IDs are created using the EZ Child ID System, the nation's most comprehensive digital fingerprinting child identification system. Created with help from the National CHIP foundation and law enforcement officials, this system ensures that the digital fingerprints meet industry standards by capturing all vital information required by the Amber Alert system.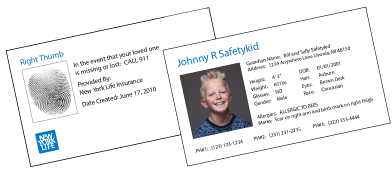 In only 3 to 5 minutes, a Child ID card is printed for each parent or guardian free of charge.
CHILD ID CARDS FEATURE YOUR:
child's photo
fingerprints
contact information
and other pertinent data needed by the police in case of an emergency.
Please note that children must be accompanied by a parent or legal guardian. No child's information or pictures are electronically retained, all data is automatically erased upon printing the Child ID. The only information New York Life keeps is a parent or guardian's contact information, and only if permission has been granted for an Agent to contact them with more information about New York Life.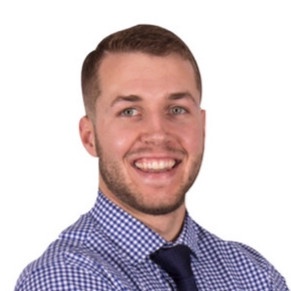 We are so excited to have Andrew Leeman as a resource for us here at World Elite Kids. As an Agent with New York Life and a Registered Representative with NYLIFE Securities, LLC, Andrew Leeman provides guidance on insurance, investments, and various other financial concerns, including college savings strategies and retirement plan rollovers. Time is finite. We often want it to slow down or speed up, failing to live in the present and plan for the future. Andrew educates, motivates, and helps clients create sustainable financial strategies to avoid running out of time before they run out of ideas or opportunities they wish to pursue.
Andrew is an alumnus of Kent State University where he earned his Bachelor of Business Administration in Economics. As a Flash, he was a member of the Kent State Cheerleading Team and competed in Daytona, Florida at NCA College Nationals. When not in practice, games, and University appearances, Andrew taught stunt clinics at World Elite with his teammates
Financial Services Professional
Agent, New York Life Insurance Company
Registered Representative offering securities through NYLIFE Securities, LLC (member FINRA/SIPC), a Licensed Insurance Agency
6100 Oak Tree Boulevard
Suite 300
Independence, OH, 44131
M. (330) 639 8203
B. (216) 532 3094

October 22nd @ 5:00pm - Sign up for the FREE Child ID Fingerprinting Event Today! --->
STAY CONNECTED